A Community Cafe That Supports a Healthy Lifestyle
RikuCafé is a community cafe that aims to help the local people achieve a "healthy mind and healthy body". It was founded after the 3.11 disaster, with the cooperative effort of local women and various experts.
Good health is a common wish for all human beings, and we believe that it is an important theme to pursue in response to the tremendous support we received after the disaster.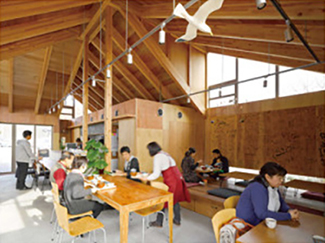 The Three Pillars
1 A place for everyone to gather happily.
2 A bridge connecting the insiders and outsiders of the city.
3 A place that nurtures good health and a purposeful life.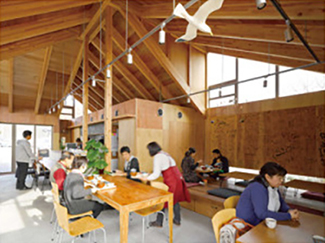 Why "Health" Now?
Good health not only leads to individual happiness but is also valuable for your family and loved ones. Moreover, the declining birth rate and the aging population, the continuing rise of medical and long-term care expenses, and the decline in the working population that supports the elderly have become major social problems in Japan today. Health, therefore, is an increasingly important national issue.
How Does RikuCafé Help "Health-Making"?
We believe that the secret to good health is to establish a good lifestyle habit through the right diet and moderate exercise and to continue that for a long period of time. The key to maintaining this lifestyle is to explore different things and to find a healthy diet and exercise to be enjoyable.


RikuCafé offers a lunch menu focused on the theme of "healthy mind and body". Our goal is to change people' s mindsets about their definition of good food. Using seasonal ingredients, our staff has put their heart into creating a nutritional "low-calorie and low-sodium" menu.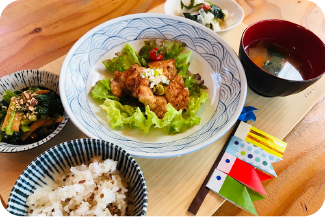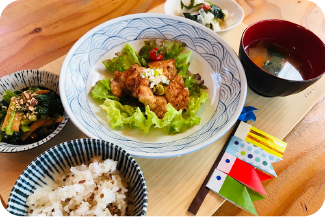 The Smart Club is a program that offers classes that help continue a healthy lifestyle.
This program, which combines diet, exercise, and purposeful life, offers simple and fun activities that can easily be incorporated into an everyday healthy lifestyle. The program not only provides for the elderly but also for parents, schools, and companies.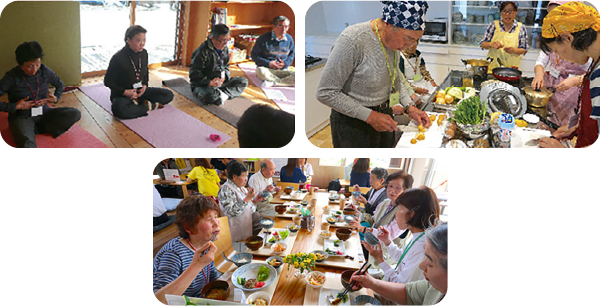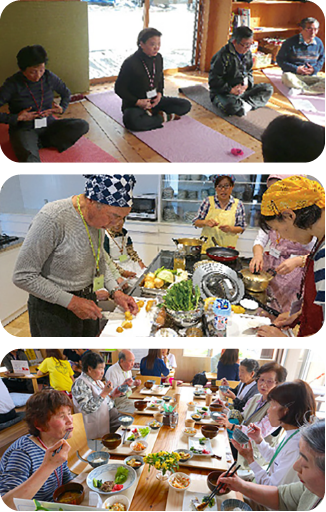 Our Wish Is to Spread Good Health
Our wish is to have more and more people put "Health-Making" into practice and to continue it. We believe it is important to reflect on the outcomes of our project and to share them with the larger community. We hope to cherish the connections we establish with our supporters and keep expanding this "Circle of Healthy Life."
Organization
Purpose
RikuCafé is an NPO based in Rikuzentakata, Iwate prefecture, which was one of the areas most severely impacted by the Great East Japan Earthquake. Founded and run by a group of local doctors and residents with the cooperation of experts in various fields, it provides a space for nurturing "healthy mind and body". Its purpose is to contribute to the revival of Rikuzentakata City by offering a community space and running programs focusing on "health-making".
Fields
Insurance, Medical, Welfare/Social Education/Community development/Revitalization of economic activities/Professional development/Employment opportunity/Contact, Advice, Support
Awards Received (as of 02/2019)
"New Tohoku" Recovery Honor Award (2018)
GOOD DESIGN Award (2015)
8th Annual Japan Facility Management Award [Special Award] (2013)
Members
Executive Director: Unoura Akira (Director, Unoura Clinic)
Board of Directors: Yoshida Masanori (Director, Yoshida Dental Clinic) / Kikawada Shinichi (Director, Mori no Mae Pharmacy) / Yoshida Kazuko / Unoura Atsuko / Oikawa Eriko / Kikawada Takako
Supervisor: Goto Chikako (Specially Appointed Assistant Professor, The University of Tokyo)
Professional Supporters/Directors: Koizumi Hideki (Professor, The University of Tokyo) / Naruse Yuri (Naruse Inokuma Architects) / Inokuma Jun (Assistant Professor, Tokyo Metropolitan University) / Akita Noriko (Associate Professor, Chiba University) / Sugaura Yukie (National Registered Dietitian)
Cooperation: Koizumi Laboratory for Urban Engineering, the University of Tokyo/Naruse-Inokuma Architects/Institute of Gerontology, the University of Tokyo/Students of the Department of Horticulture, Chiba University/Rikuzentakata City Government/Japan Yoga Association/Sano Acupuncture and Moxibustion Clinic/Association for the Preservation of Northern Tea-Kesen Tea Group/Hanamizuki Vegetable Garden Club (random order)
Requests for Donation
RikuCafé's business is managed through supporters' donations.
We are always seeking for supporters who are willing to share the purpose of our initiative.

Types of Donation
[ Supporting members ]
Individuals

3,000yen/year

Organizations

5,000yen/year
Methods of Payment
[ Payment via Yucho Bank Deposit Transfer ]
Account Number: 02240 – 7 – 143164
Account Name: Specified Nonprofit Organization Rikucafe
---
[ Payment via Other Banks ]
Bank Name: Yucho Bank Branch Name :Branch Number: 229
Account Number: Checking Account 0143164
Account Name: Specified Nonprofit Organization Rikucafe
In the case of transfer to Japan Post Bank from overseas, please confirm the details on the following site.
---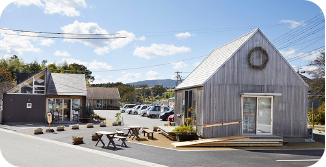 Business Hours: Monday – Friday 10:00 – 16:00
(Lunch Time: 11:30〜14:00)
Closed days: Saturday, Sunday, Holidays
22-9 Takata-machi, Aza Naruishi, Rikuzentakata-shi, Iwate Prefecture 029-2205
PHONE: +81-192-22-7311 FAX: +81-192-22-7317
Website: http://rikucafe.jp
E-mail: rikucafe@dream.ocn.ne.jp